Take cool photos and special-effects movies to remember the trip by!
highlights of this activities
You can wear Samurai armor and take cool pictures with the castle in the background and inside! You will be guided by Ashigaru-san or Mr. Ninja as you go arounfd taking pictures. You can take lots of pictures while learning about Shiroishi!
We'll also shoot a short special-effects movie for you!
白石城とは
It was the southern strategic point of the Sendai clan, the biggest domain in the whole Tohoku area from the 17th century to the late 19th century. After the Battle of Sekigahara, it was the residence of the Katakura clan, a chief vassal of the Date family, for 260 years until the Meiji Restoration. The castle was dismantled in 1874, but in 1995, the castle was rebuilt in memory of the great deeds of Katakura Kojuro Kagetsuna, who was famous as the guardian of Date Masamune.
Make a special-effect video!
And at the end, you get to shoot a video with some animation effects! It's up to you what kind of performance you want to give! You are the director. You can perform with your friends, family or by yourself.
Shoot a special video to remember the trip by!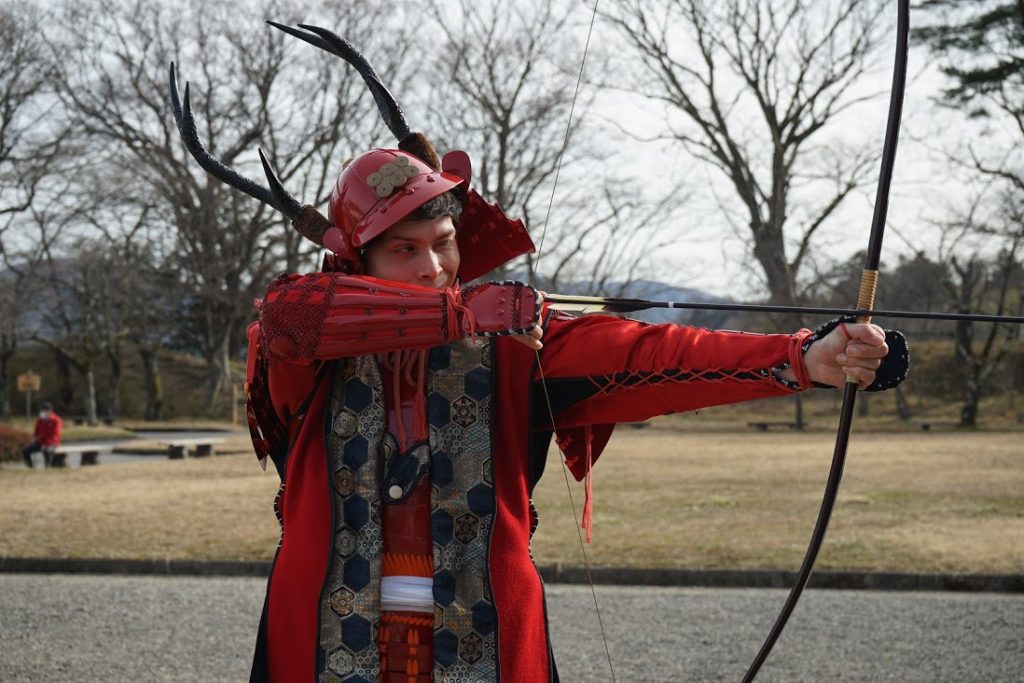 Place
Meeting place: History Museum by Shiroishi Castle
Place: Shiroishi Castle
Time
About 1.5 hours
Please select your preferred starting time from the following three options
1) 10:00am
2) 12:00pm
3) 2:00pm
Number of guests
Minimum of 1 person, maximum of 4 people
Price
From 6,500 yen
Reservation
Please make a reservation at least one day in advance using the inquiry form below.
Your Guides
This is Mr. Ninja, your guide in English, mainly for international tourists!
This is Ashigaru-san, your guide in Japanese!
Timeline
Meet at the museum
↓
Start guiding while moving to the main castle tower
↓
Put on armor at the main castle tower (10 minutes per person)
↓
Guided tour of the main castle tower and photo shooting
↓
Go out of the castle tower with armor on, explain about the main castle, and take photos with Shiraishi Castle in the background
↓
Shooting a video using a bow and arrow
↓
Return to the main castle tower, remove armor, and dismiss
Reservations and Inquiries
To make a reservation or submit an inquiry, please use this form.